The color of 2022!
The color of the new year... Every year, various paint companies, design websites and fashion magazines announce the color for the new year. Curious about which colors are chosen and how they can best be styled with the Cotton Ball Lights garlands? Read on!
The Flexa color of 2022 is Bright Skies and this is, as the name itself implies, a bright, airy, light blue hue. On the website of 100% woongeluk they make the meaning of Flexa behind the Bright Skies color known and this is, especially for the time in which we live now, a very nice: a new beginning. You bring nature into your home with this color and make spaces more vibrant!
As always, a panel of international design experts comes together and Flexa gets a clear insight into what the look is of the moment and what things are influencing the way we live. The role of our home has clearly changed in the last two years because of the pandemic and the different lockdowns, and it has also become very clear how important nature and being outside is in our lives. That's why we chose an optimistic, natural color that is multifunctional.
Bright Skies can be brought into your home in different ways, such as with our Cotton Ball Lights indoor light garlands! The regular light garlands Aqua Grey, Aqua, Pastel and Macaron all contain light blue cotton balls and are wonderful mood lighting for indoors in any room. The Premium garland Cool Choice is also a good choice for indoor atmosphere and lighting. Of course, you can also compose your own cotton balls light string for your customers and then the Light Aqua or Baby Blue cotton ball will come closest to Bright Skies!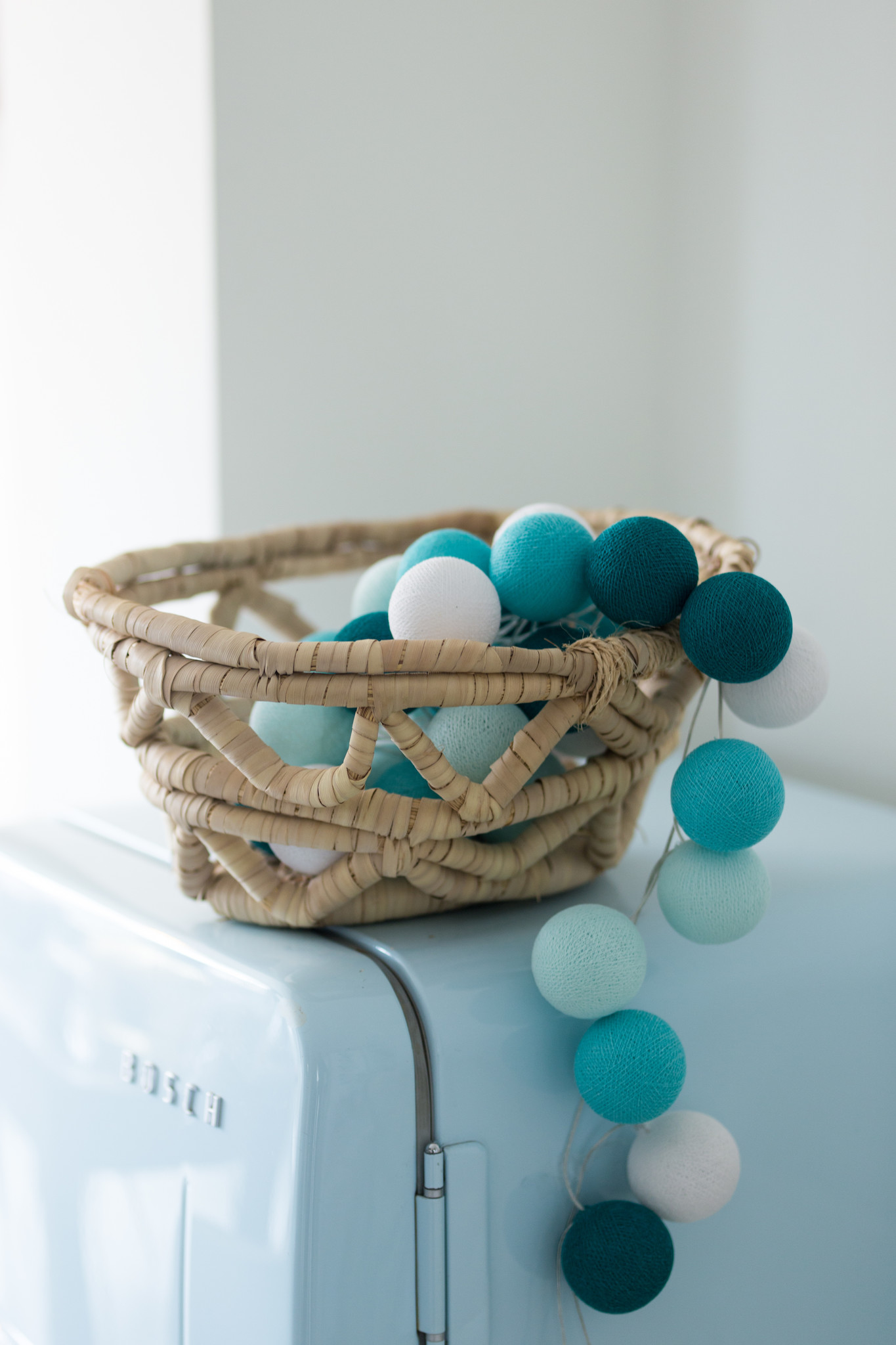 But not only Flexa chooses a color of 2022, Histor has also chosen the color of the new year: Olive Sprig. On www.histor.nl, Histor states that this color is a flexible gray-green that radiates growth and resilience and symbolizes something beautiful which, of course, is also related to the pandemic: authenticity, a natural environment and personal contact. Olive Sprig is a relaxing color, it brightens up a space and it creates liveliness. The hue refers to the olive branch and represents peace, harmony and hope. A colorful interior helps to create optimistic thinking and just a little color can give a room a completely different look!
Olive Sprig can be beautifully combined with wooden furniture and it is nice to match the interior by returning the color in the Cotton Balls garland like in the bulb garland Wanderlust, Forest Green, Forest Fruit or the premium light cord in Urban Green!
Internationally, the Pantone color institute has been choosing a "color of the year" for the coming year since 2000. Pantone publishes color codes and for the first time has created a new color especially for this occasion: Very Peri! It is a color of periwinkle blue with violet-red undertones and, according to www.pantone.com, symbolizes "the global zeitgeist of the moment and the transition we are going through." The new color was created specifically to "celebrate" how our lives have been changed by the pandemic and how our collective creativity is reaching new heights. 
Currently we do not have an existing light string with purple-blue colors. The color of our cotton balls that comes closest to Very Peri is Purple. Purple in combination with for example our cotton ball Lavender or Light Magenta or a neutral color like White, Shell, Stone or Mid Grey (depends on the interior of course) also forms a beautiful garland!
The above chosen colors of 2022 certainly don't match each other and they don't have to, but what does match is that the pandemic is of course central to the meanings behind the chosen colors. The great thing is that there is positivity and optimism behind them, so I'm curious to see if many clients' walls or accessories will be colored in Bright Skies, Olive Sprig or Very Peri in the home in 2022!